Workshop Dates:-
Workshop 1 - Tuesday 22nd November 0930-1445 (Face to Face Venue TBC)
Workshop 2 - Tuesday 31st January 0930-1445 (Face to Face Venue TBC)
Workshop 3 - Tuesday 25th April 0930-1445 (Face to Face Venue TBC)
Workshop 4 - Tuesday 13th June 1300-1515 Online
This project is designed to support teachers in both mainstream and special provision to address the needs of all children in mathematics, specifically looking at the characteristics of MLD and Dyscalculia.
Our focus will be on developing mathematical understanding based on 'stage not age' of pupils with SEND and is therefore applicable to colleagues from EYFS to KS4.
The theme will include designing effective learning and teaching in mathematics to build early mathematical concepts, spatial reasoning, early number sense and rich interactions.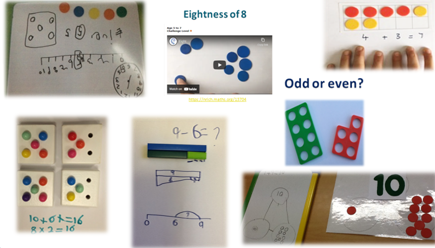 The aim of this community is to look deeply into how maths teaching can be adapted to reduce the barriers to learning for children with MLD and Dyscalculia.
Through focusing on a particular pupil, the participants will have the opportunity to engage with other teachers and experts to learn about effective approaches that ensure barriers to mathematical understanding are overcome.
This work group intends to have wider impact on how teachers of mathematics understand and use SEND pedagogy and practice within their classroom, so that all teachers are teachers of SEND and all pupils have access to high quality and inclusive teaching practices.
The findings from this Work Group will be collated and shared more widely to inform future Work Groups and the Maths Hub community.
Who will be leading the group?
Louise Langford
Louise had led SEND and Maths Work Groups over the past two years. Evaluation feedback has been incredibly positive for all four Work Groups.
Louise is an accredited NCETM PD Lead and experienced Mathematics subject leader, with an MA in Education (Early Mathematics Intervention). She works as an Associate Lecturer for Worcester University and as a skilled maths intervention teacher. Louise has specialist knowledge of the pedagogy associated with working with children experiencing difficulties in maths, holds BDA Approved Teacher Status (Dyscalculia) and is a qualified assessor for Mathematical Learning Difficulties and Dyscalculia.
Who is it for?
This Work Group is applicable for colleagues working in EYFS to KS4, in both mainstream and special provision. SENDCO's, Maths Leads and Senior Leaders have all found this Work Group excellent in supporting school improvement in this area. Participants may also find it helpful to attend with a colleague to support the pupil research element and wider impact.