Schools that participated in the funded Developing Teaching for Mastery programme in 2016-17, 2017-18 or 2018-19 are eligible to join this funded Work Group.
Wednesday 2 December, online 1.30pm-3pm; Wednesday 17 March, school-based, 9am-12 noon or online 1.30pm-3pm; and Wednesday 16 June, school-based, 9am-12 noon or online 1.30pm-3pm.
The Sustaining Mastery programme has two distinct elements:
Leading Teaching for Mastery for Headteachers/Subject Leaders/Teaching for Mastery Leaders
Lesson design for any teacher who wants to begin or further develop their Teaching for Mastery practice – one place per school
Each school may book up to one place for the Leading Teaching for Mastery workshops and up to one place for the Lesson Design workshops. To book a place at the Sustaining Mastery - Leadership Work Group, please see separate link.
Overview of workshops ….
Lesson Design
Three, half day Specialist-led workshops
Focus: practice development to include an 'open lesson' and opportunities for collaborative planning of lessons and tasks. There will also be a focus on one/two particular year groups but teachers of any year group are welcome to attend
Venue: online/Specialist's school: Mount Pleasant Primary School, Shrewsbury SY1 3BY

Commitment to Teaching for Mastery Work Groups in 2020/21 and beyond
We thank you for engaging with Teaching for Mastery Work Groups. As part of the next phase, we are refreshing your commitment to the Teaching for Mastery Work Groups as we offer the opportunity for you to become part of the ongoing phase entitled 'Sustaining'.
What does the opportunity involve?
Your school will participate in the Work Group and changes made to practice are led by the maths subject lead from your school. There will also be exciting opportunities for all teachers and leaders to attend the workshops over the academic year. The Work Group consists of between six and twelve local primary schools.
Sustaining Work Groups meet regularly to plan, share progress and discuss the issues in refining their approach to whole school teaching for mastery. A significant focus of the workshop is aimed at collaborative lesson design between schools, which incorporates teachers developing their mathematical subject knowledge as well as their pedagogical subject knowledge and putting this into practice in the classroom. In between meetings, maths subject leads are expected to support their colleagues back in their own school in adopting, reflecting upon and refining practices which are consistent across school. These Work Groups will be continuous beyond the academic year, with schools identifying focused issues to collaborate upon to constantly improve the quality of maths teaching and learning as part of their professional development.
Support is provided from an experienced Work Group Lead who facilitates the group and provides expertise. This model of professional development involves hands-on learning and peer-to-peer support. It is evidence-based and designed to support substantial long-term change.
As a school, you will strengthen collaboration with other schools and will benefit from working collaboratively on teaching for mastery issues such as issues around leading change. Some of the workshop will be a 'twilight' session, which means that other members of staff can join after the school day and engage in designing lessons with other teachers both during the workshop and subsequently. This will allow you to make a long-term, positive impact on your maths teaching and learning.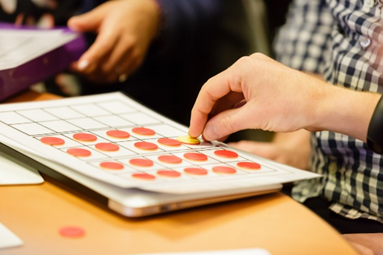 Schools participating in Mastery Readiness, Developing Mastery, Embedding Mastery or Sustaining Mastery Work Groups in 2020-21 are also eligible for one of their EY teachers to participate in the Building Firm Mathematical Foundations in Reception Work Groups (in Hereford, Shrewsbury or Wolverhampton).
NB. In selecting places, the Headteacher of the school is agreeing to the continued commitment to the Teaching for Mastery Work Groups provided by SHaW Maths Hub. This includes further development of teaching for mastery across the school, to release the maths subject lead to attend all relevant leadership workshops and allow other teaching staff to attend appropriate sessions.
Who will be leading the group?
Lindsay Sharratt
Teaching for Mastery Specialist Teacher and Deputy Headteacher