This Work Group is designed to develop the professional knowledge of teachers and HLTAs in teaching and supporting lower attaining pupils. The focus is on supporting those pupils who struggle to make connections and develop fluency in mathematics, but do not necessarily have a diagnosed difficulty.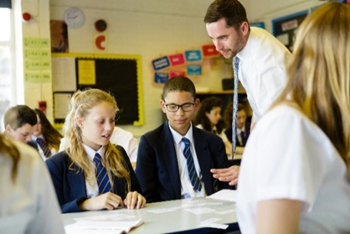 The Work Group will support participants to use multiple representations and manipulatives to expose the structure of mathematics, alongside realisable contexts that are aimed at allowing lower attaining pupils to reason from known facts. The workshops will support participants in translating research into practice so that they are better able to present mathematics in a manner that builds on pupils' prior knowledge. This will include a consideration of mathematics anxiety as well as helping students to translate their informal methods into reasoned solutions to problems. The Work Group will have implications for those working with lower attainers in KS3 and KS4.
Who will be leading the group?
Sally Bamber
Dr Sally Bamber is the lead for the Secondary Mathematics PGCE at the University of Chester. She moved into teacher education in 2007 following 15 years mathematics teaching experience in four diverse schools. Sally is part of a pilot project accrediting the NCETM PD Lead to post-graduate credits. She is an active member of the British Society for Research into Learning Mathematics and the Association of Mathematics Education Teachers. Half of Sally's University role is the design and implementation of classroom based research projects involving collaborative lesson design intended to raise attainment in GCSE mathematics for middle to lower attainers. Sally is a member of the SHaW Maths Hub Strategic Board and chair of the Cheshire and Wirral Maths Hub Strategic Board.
Who is it for?
This Innovation Work Group has been set up in response to requests to support schools with a relatively high proportion of pupils currently achieving GCSE Maths Grades 1 or U. Schools are welcome for their HLTA to participate alongside their participating teacher(s).
What are the intended outcomes?
Professional learning
Teachers will gain a greater confidence with making connections and use of manipulatives and representations to expose the structure of mathematics
Teachers involved in the Work Groups will share and disseminate good practice within their own schools
Teaching and/or leadership practice
Shared approaches to developing connected understanding
Collaborative opportunities for HLTAs to work directly with participating teachers
Whole school/departmental policies and approaches
Improved consistency to support use of manipulatives and representations to expose the structure of mathematics effectively
Pupil achievement, attitudes, participation or experience
​​Improved resilience and independence to tackle questions
Improved confidence, engagement, enjoyment and fluency through greater awareness of connections
What will it involve?
Participation in two one-day workshops and completion of a gap task between workshops.
Workshop 1 (17th June): Participants will interrogate key issues related to learning number and algebra and reflect on these issues in the context of your own learners. Tasks that are designed to help learners make sense of concepts, whilst reducing the cognitive demand on learners will be explored. Participants will have the opportunity to adapt these tasks for immediate use in school.
Gap Task (between workshops): Participants will apply tasks designed in the first workshop in their own settings.
Workshop 2 (8th July): Participants will reflect on the impact of their tasks in relation to Work Group outcomes using data from the classroom to inform the discussion. Further interrogation of tasks will allow participants to look at geometry from the perspective of lower attaining learners. Opportunities to discuss the wider implications of the work group, together with an opportunity to foster collaborative work between schools will be included in the day.
What is the cost?
Free
Cover costs of up to £200 per day will be paid for teachers in their first two years of teaching. Please indicate where requested on the booking form.